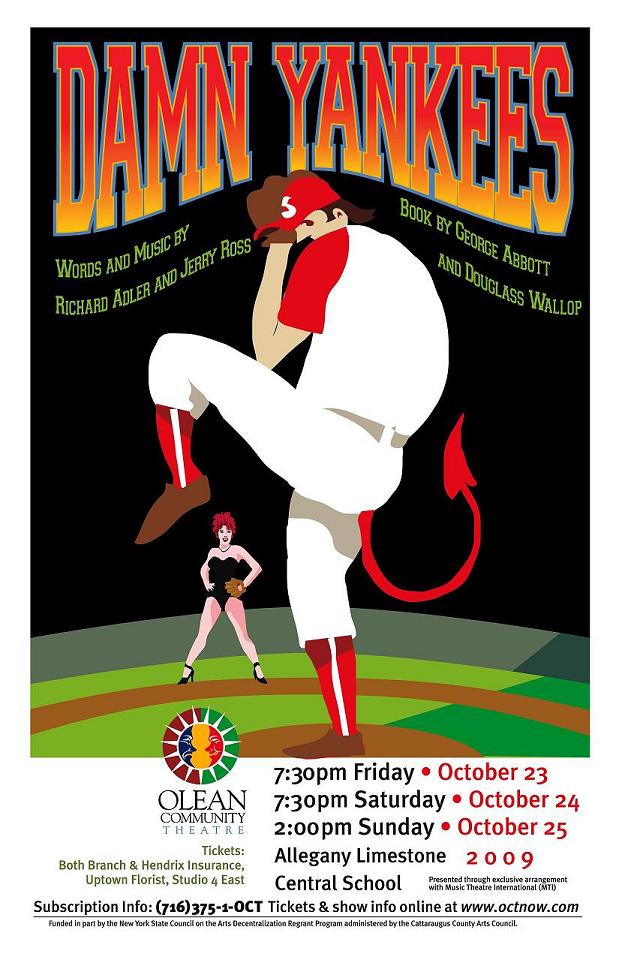 SEASON 30 comes to end with a homerun!

Olean Community Theatre, Inc.

presents a devilishly divine musical for all ages

DAMN YANKEES

Words and Music by

Richard Adler and Jerry Ross

Book by

George Abbott and Douglass Wallop

Minna Badanes, Director

Nathan H. Bell, Assistant Director

Friday, October 23, 7:30p

Saturday, October 24, 7:30p

Sunday, October 25, 2:00p

Allegany-Limestone Central School

Gator Auditorium   -   Allegany, NY

Adult $12.00 / Senior Citizen or Youth (under 18) $10.00

THE STORY

The Broadway musical hit, Damn Yankees, is a retelling of the "Faust" legend.  Aging baseball fan Joe Boyd is given a chance to lead his beloved Washington Senators to victory by a devilish gent named Applegate. Boyd is transformed into handsome young "Shoeless" Joe Hardy from Hannibal, Mo.

Joe becomes the Senators' star player, but at the price of his immortal soul; he isn't terribly worried, though, since he's built an escape clause into his contract with Applegate.  To see that Joe doesn't get a chance to exercise that clause, Applegate sends his luscious assistant Lola to seduce the ballplayer.

This effort doesn't work, but Applegate still manages to cause Joe to lose his chance at salvation. But there is still a ray of hope--if Hardy can win the deciding pennant game, he'll be able to foil Applegate's master plan of causing the Senators to lose.

With Lola's aid, Joe gives the devil more than his due. The principal selling points of Damn Yankees are the wonderful Richard Adler/Jerry Ross songs, including "You've Gotta Have Heart" and "Whatever Lola Wants, Lola Gets."

Based on the novel The Year the Yankees Lost the Pennant, Damn Yankees opened on Broadway in May 1955 with Gwen Verdon as Lola.  It played over 1000 performances.  A successful Broadway revival run of over 700 performances opened in March 1994 and starred Bebe Neuwirth as Lola.

THE CAST

Joe Boyd

Moses Howden
Meg Boyd

Kelly Campbell
Mr. Applegate

Nathan Malick
Sister

Dani Brien
Doris

Patricia Howden
Joe Hardy

Jacque Austin
Henry

Tim Hollamby
Sohovik

Brad Thomas
Smokey

Mitch O'Dell
Vernon

Shaughn Bryant
Linville

Colin Sullivan
Van Buren

William Steffen
Rocky/Eddie

Aaron Thomas
Gloria Thorpe

Courtney Hoerner
Lynch

Kathy Malick
Welch

Mike Schott
Lola

Lucy Robinson
Bouley

James Hastings
Mickey

Bob Meyers
Miss Weston

Sue Hannon
Commissioner

Gus Napoleon
Postmaster

Steve Spry
Forrest

Chester Bloomfield


Wives




Meaghan Bryant




Alexa Campbell




Lauren Ruffini




Bridgette Martin




Sue Hannon


Fans




Courtney Lasher




Meaghan Bryant




Lauren Ruffini




Bridgette Martin


Teen Fans




Alexa Campbell




Emily Sullivan




Amber Kolodziejski


Bat Boys




Travis Groth




Zack Donner



Devilettes




Alexa Campbell




Sue Hannon




Lauren Ruffini




Bridgette Martin


Male Dancers




James Hastings




Brad Thomas




Colin Sullivan




Mitch O'Dell
THE PRODUCTION TEAM

Producer

Carla Campbell
Director

Minna Badanes
Assistant Director

Nathan H. Bell
Technical Director     Nathan H. Bell

Orchestra Director

Ruth Fuller
Vocal Director

Pat Waldron
Choreographer

Laurie Donner
Rehearsal Accompanist

Joyce Gilroy