QUANTITY

(Seniors & Youth)

Checks payable to OCT, Inc.

Mailing Address:  P O Box 100, Olean NY 14760

Your confirmation e-mail is your receipt.

Season Tickets will be mailed.

questions or concerns regarding your order.

PERFORMANCE PREFERENCE

(Changes easily made later)

Comments or special instructions

Pay by check now... or we'll BILL YOU LATER!

             Order 2014 Season 35 Subscriptions Here

OCT Inc.

P O Box 100

Olean NY 14760

716-375-1628

www.octnow.com

Questions?

E-mail us at anytime

Season 35: Something for Everyone!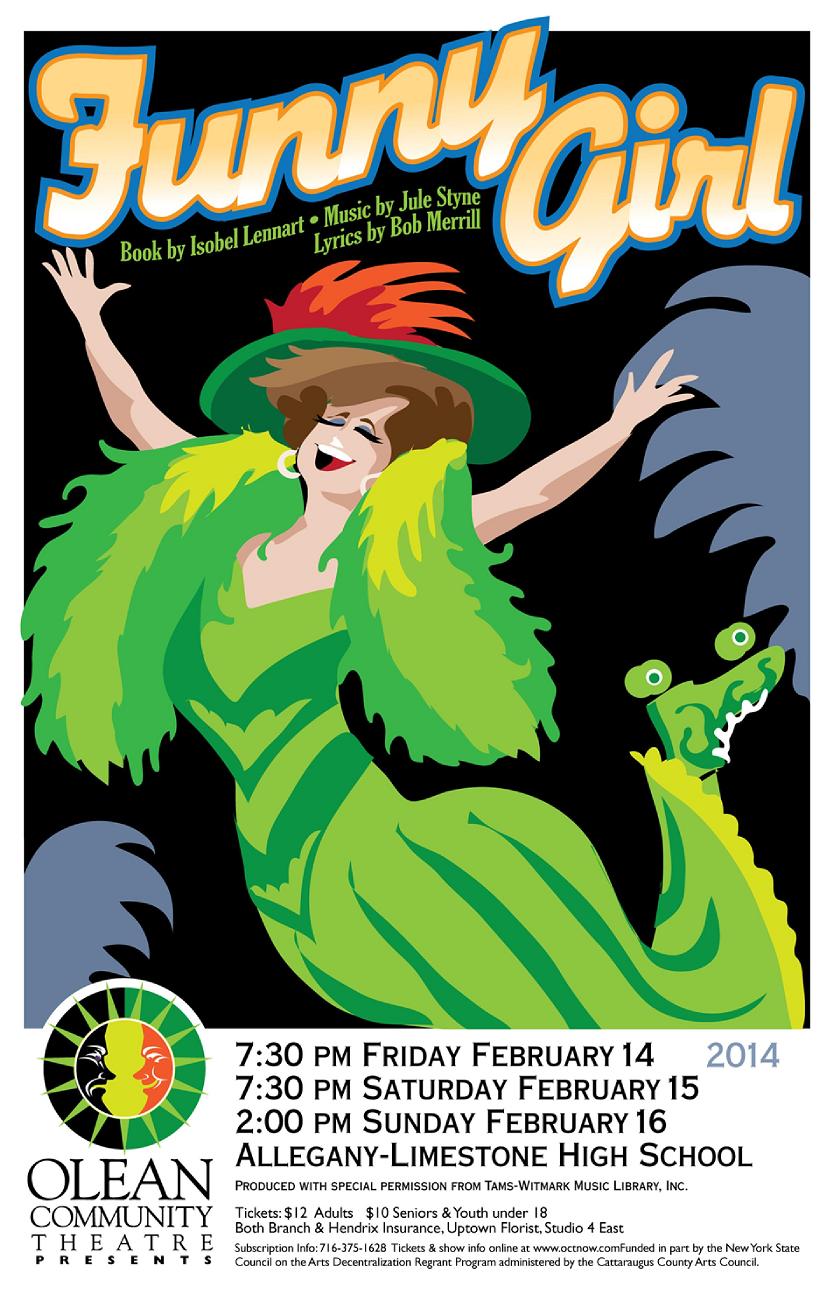 MUSICAL

directed by Minna Badanes

Funny Girl is a successful stage and film musical that features a score by Jule Styne and Bob Merrill, along with a book by Isolbel Lennart.

The musical is semi-autobiographical and is based on the life and career of Fanny Brice, the Broadway star and personality. Her stormy relationship with Nicky Arnstein is played out through a flashback, which incorporates her rise to fame.

The musical is perhaps best known because of the film adaptation starring Barbara Streisand who reprised her role from the stage.

Songs include People, Don't Rain on My Parade, You Are Woman I am Man, The Music That Makes Me Dance, and more.

MUSICAL

directed by Minna Badanes

The 25th Annual Putnam County Spelling Bee is a stage musical that features music and lyrics by William Finn and a book by Rachel Sheinkin.

The show is a comedy that centers on an spelling bee competition set in a fictional junior high school. The contest is attended by a number of quirky school students (played by adults) and is managed by a pair of mismatched larger than life adult personalities.

A set section of the show is improvised each night, and four audience members are invited to take part in the spelling bee. They are eliminated throughout the piece, but not before some fun for all!

DRAMA

directed by Kathy Malick

Good is an award-winning play in two acts written by British playwright Cecil Philip Taylor.

First published for Methuen Drama in 1982, it was originally commissioned by the Royal Shakespeare Company in 1981 and subsequently seen all over the world.

Good has been described as the definitive piece written about the Holocaust in the English-speaking theatre.

Set in pre-war Germany, Good shows how John Halder, a liberal-minded professor whose best friend is the Jewish Maurice, could not only be seduced into joining the Nazism, but step-by-rationalised-step end up embracing the final solution justifying to his conscience the terrible actions.