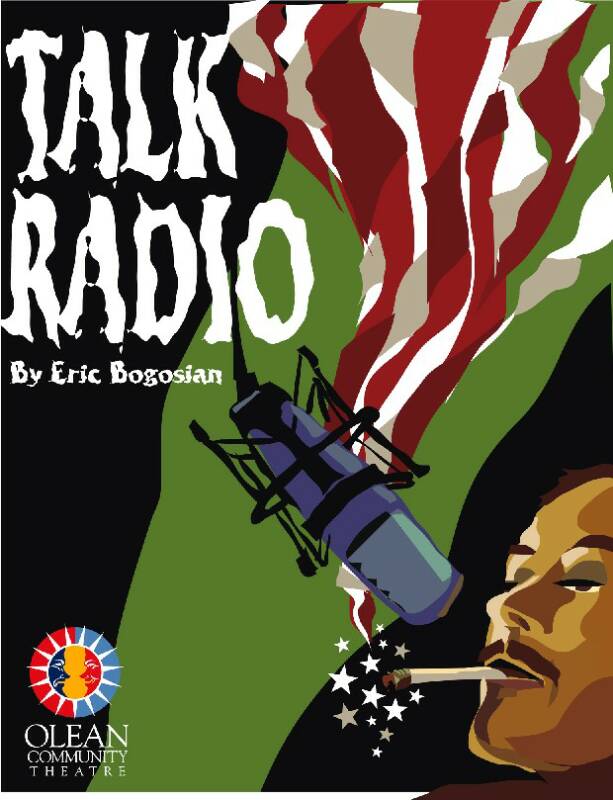 Olean Community Theatre, Inc. presents

Talk Radio

written by Eric Bogosian

directed by Kathy Malick

April 21-22-23, 2006

Allegany-Limestone High School Auditorium

ABOUT THE PLAY

Eric Bogosian's Talk Radio is a few hours in the life of  Barry Champlain, radio call-host extraordinaire, and his malicious, abusive, downright nasty way of dealing with his invisible audience and the world at large.  "This decadent country needs a loud voice--and that's me," Barry tells his listeners, and it's a cry, a warning, for anyone who fears the madness and petty dictators that rule our airwaves.

"Imagine Lenny Bruce becoming a popular talk show host--and you may begin to have an idea of the whiplash intensity and black, hard-eged cynicism of...Talk Radio" (Mel  Gussow,The New York Times). 

THE CAST

TIMOTHY HUNTER - Barry Champlain

ERIC VAN DRUFF - Stu Noonan

NATHAN MALICK - Dan Woodruff

BLAIR KNOWLES - Linda MacArthur

DON McLEAN - Sid Greenberg & caller

TORREY JOHNSON- Kent

KEN ROBERTS - Spike

SHEILA PEACE-RAMBACHER -

                               Dr. Susan Fleming & caller

TIA TORREY - caller

JEFF MARIS - Bernie & caller

RODNEY STEBBINS - caller

ROBERT COOPER- runner & operator

MINNA BADANES - caller

ROBERT CLEMONS - caller

THE PRODUCTION STAFF

KATHY MALICK - director

LINDA MANROSS - producer

CHARLES BALDWIN - tech director

NATHAN BELL - stage manager

ROBERT CLEMONS - stage crew

Now meet Barry Champlain, the meanest, most malicious radio personality in Cleveland, whose late-night, call-in talk show is about to go national.

As the play begins, Champlains's staff--afraid that he'll say something to offend his new sponsor--scurries nervously back and forth while Champlain chainsmokes, manipulates, and excoriates his callers.  Who are Barry Champlains's callers?  The lonely, the bewildered, the desperate and deranged...people he alternately admonishes, abuses, taunts, rejects--and disconnects.

But tonight, something unexpected happens--something powerful, profound and unforgettable--suggesting that, maybe this time, Barry Champlain has gone too far.

Truly "a hypnotic play."--Douglas Watt, New York Daily News.

Talk Radio was awarded the 1988 Pulitzer Prize for drama.

Our Online Box Office

IS OPEN!

Talk Radio deals with adult themes and may not be suitable or enjoyable for children.