OCT Inc.

P O Box 100

Olean NY 14760

716-375-1628

www.octnow.com

Questions?

E-mail us at anytime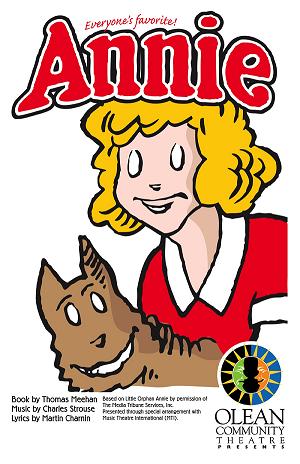 Olean Community Theatre, Inc. proudly presents

Everyone's favorite!

Annie

Music by Charles Strouse / Lyrics by Martin Charnin

Book by Thomas Meehan

Directed by Nathan H. Bell

Friday, FEB 22 2013 at 7:30p

Saturday, FEB 23 2013 at 2:00p

Saturday, FEB 23 2013 at 7:30p

Sunday, FEB 24 2013 at 2:00p

Gator Auditorium

Allegany-Limestone Central School

3131 Five Mile Road, Allegany NY 14706

ABOUT THE SHOW...

Leapin' Lizards! It's OCT's first-ever production of one of the most acclaimed musicals of the past 35 years! With equal measures of pluck and positivity, little orphan Annie charms everyone's hearts, despite a next-to-nothing start in 1930s New York City. And now, alongside her signature pal dog, Sandy, she's set her sights on making us grin from ear to ear as she inspires a whole new millennium.

A Broadway winner of 7 Tony Awards® including Best Musical, Annie - with Music by Charles Strouse, Lyrics by Martin Charnin, and Book by Thomas Meehan, is sure to be the highlight of this coming winter. Mark your calendars now for everyone's favorite, Annie.

THE PRODUCTION STAFF

Producer...   Carla Campbell

Director...   Nathan H. Bell

Technical Director...   Ken Roberts

Vocal Director...  Mark Lungershausen

Orchestra Director...   Ruth Fuller

Choreographer...  Laurie Donner

Costumer...  Monica Kellogg

Stage Manager...  Dan Donner

CAST

Annie...

Olivia Obergfell
Molly...

Olivia Emley
Pepper...

Maddison McClelland
Duffy...

Mia Rogers
July...

Mariah Moses
Tessie...

Hannah Kloss
Kate...

Emalee Dedrick
THE ORPHANS

Grace Emley - Willow Lapp - Sydney McClelland - Kali O'Neil

Ashlyn Schuman - Ellie Waugaman - Libby Waugaman

Miss Hannigan...

Ardyth Van Scoy
Rooster...

Jake Riggs
Miss Lily St. Regis...

Bridgette Martin
Oliver Warbucks...

Rodney Stebbins
Grace Farrell...

Tanaka Van Druff
THE ENSEMBLE CAST

Jessica Anderson - Alan Berstein - Megan Burgess

Lindsay Bushnell - Sadie Jay Edwards - Angela Emley

Madison Granger - Sue Hannon - Kathleen Harper

Tim Hollamby - Clay Nolan - Steve Riley - Bob Sader

Kylie Schuman - Tioga Simpson - William Steffen

Emily Sullivan - Mary Kay Worth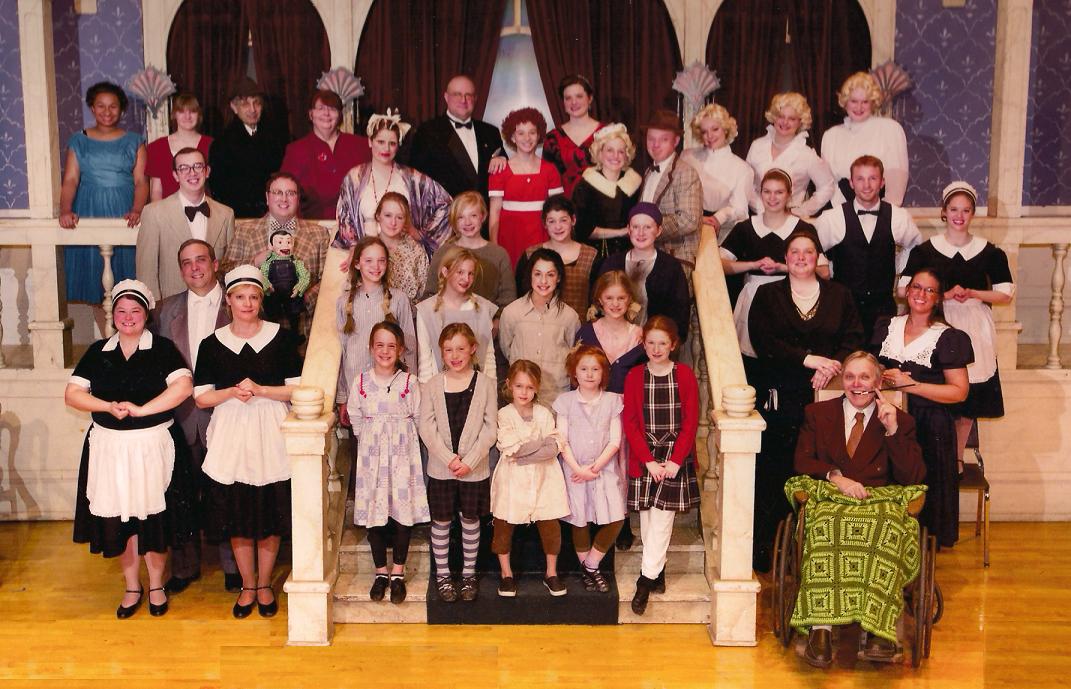 DIRECTOR'S NOTES

by Nathan H. Bell

(as printed in the Annie program)

  Leapin' Lizards! After much anticipation, a heck of a lot of work, and so much more fun, it is finally here! Annie is ready to take the stage at Allegany-Limestone's Gator Theatre.

  Unless directly involved with a full-scale musical, one can only imagine the time and dedication needed by all those involved to raise the curtain and provide the audiences of Olean Community Theatre with top notch, quality entertainment. Including the cast, crew, orchestra, house staff, and production team, these performances have used the volunteer talents of nearly 100 individuals. To convert that number into hours would be a near impossible task – as is conveying my appreciation.

I have been thrilled with the support provided by each and every one of those who have aided us along the way. From parents and siblings driving orphans to rehearsals and studying lines to those who have stayed after to continually game plan and everyone in between, I have been blessed.

This will be my last production as a director and board member of Olean community theater as the beautiful Meaghan Bryant has agreed to marry me this fall, and we will begin a new life together in the Hornell area. I could not have dreamed of a better way to go out then with the musical alongside of my OCT family and friends who have supported me. Perhaps I will join you quote on the boards "soon, but until then, thank you and I wish you much continued success!

With so much need throughout the world, and as a cayenne to our offering themed musical, Olean community theater will be making a donation to the usher house with the proceeds from our pop popcorn sales in the lobby jewelry each intermission.

The Asha (meaning "hope" in Hindi) House, an orphanage in India, became known to us through the efforts of OCT alumnus Jessica Campbell. Ms. Campbell and her husband Caleb work for the funding arm of this organization called Back to the Roots. With relentless determination, the couple assists the desolate and at-risk children of India find food, shelter, and comfort.

Please visit the display in the lobby for additional information on this worthwhile charity, and we thank the Allegany-Limestone Student Council for staffing the popcorn machine at each performance. With your help, we can make a difference and breath hope into the lives of those who cannot provide for themselves.

Enjoy Olean Community Theatre's production of Annie!- Nathan H. Bell, Director